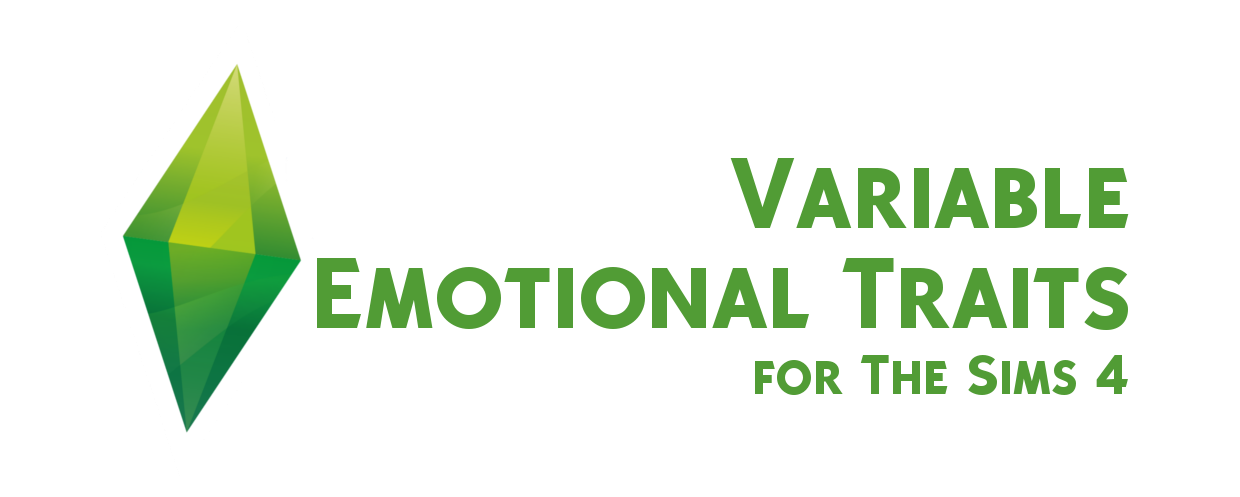 Variable Emotional Traits for The Sims 4
Last updated: v1.0.0, 13 November 2018
Working for The Sims 4 v1.69.59, The Snowy Escape Patch, 14th December 2020
Also compatible with The Sims 4 Legacy Edition
What it does
When an emotional trait like goofball or gloomy gives an occasional moodlet for its associated emotion, like 'Feeling Playful' or 'Feeling Sad', the moodlet will have a random strength, instead of always being +1.
Those occasional +1 moodlets from the emotional traits rarely do much, especially the negative ones. With this mod, even if you're not deliberately putting your sim into the emotion associated with their trait, there should be a better chance they'll accomplish it themselves sometimes.


Variable Emotional Traits is also included in the newer Meaningful Stories mod!
Variable Emotional Traits in detail
The occasional moodlets from emotional traits and the erratic trait will be a random strength each time they're received.
For positive moods:
2/3 chance of +1, 1/3 chance of +2


For negative moods:
2/5 chance of +1, 2/5 chance of +2, 1/5 chance of +3


The moodlets affected are: 'Feeling Energized', 'Feeling Happy', 'Feeling Inspired', 'Feeling Focused', 'Feeling Sad', Feeling Playful', 'Feeling Angry', 'Feeling Flirty', 'Feeling Confident', 'Flarn', 'Elicanto Whirly', 'Ooh Be Gah!!', and 'Shmoo Shmoo Shmoo'.
Thanks
This mod has only been made possible by the continued support of my patrons. Thank you!
This mod was made with the help of Sims4Studio by The Sims 4 Studio Team
Thanks to Sjofn, SarahSyna, Loofofbread, and jackboog21 for testing and reporting bugs.
Conflicts
This mod overrides no files, and should not conflict with any other mod.
Support and updates
If you like my mods, I have a patreon where you can support me in making more of them and keeping them up to date with patches.
To keep informed of updates to the mod, click the 'follow' button on patreon for email alerts. You can also follow roBurky on tumblr and twitter.
To talk about the mod with other players, or get live help with installing or using the mod, join our Discord server.

Install instructions
Extract the contents of the zip file into your 'Documents/Electronic Arts/The Sims 4/Mods' folder.
Download
Download
roBurky - VariableEmotionalTraits.zip
92 kB