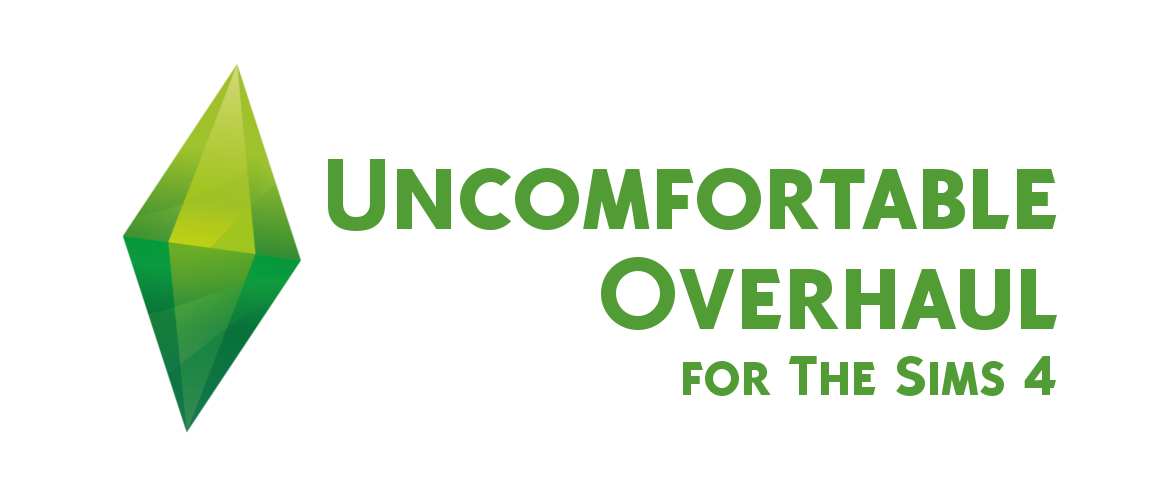 Uncomfortable Overhaul for The Sims 4
Last updated: v1.0.2, 1st March 2018
Working for The Sims 4 v1.69.59, The Snowy Escape Patch, 14th December 2020
Also compatible with The Sims 4 Legacy Edition
What it does
Discomfort will affect your sim's mood in new ways. Small amounts of discomfort can make your sim more susceptible to other negative thoughts, tipping them over into being overcome with anger, tension, or sadness. But when it's appropriate, the 'uncomfortable' mood can still take centre stage and make your sim feel awful.
It can help your sims feel a little more human, and allow them to experience a wider range of emotions.


Uncomfortable Overhaul is also included in the newer Meaningful Stories mod!
Uncomfortable Overhaul in detail
Changeable Discomfort: 'Uncomfortable' is now a changeable mood, which means it can boost the score of other negative emotions similar to how 'happy' boosts the score of positive emotions.

Passive Discomfort: The score of changing uncomfortable moodlets is added to the largest negative emotion when determining what dominant mood to put the sim in, but NOT when determining what intensity level of that mood to put them in. A bunch of uncomfortable moodlets can flip a sim from feeling 'happy' to feeling 'sad', but they cannot boost a sim from feeling 'sad' to 'very sad'. This allows the base game's balance between mood intensities to be maintained, and means emotional deaths remain rare.

Assertive Discomfort: If an individual uncomfortable moodlet has a score larger than all of the largest other negative emotion's moodlets combined, then it will overcome the other negative mood and force the sim into the 'uncomfortable' mood. This means that extreme uncomfortable moodlets like the +40 'really needs to pee' moodlet still make your sim feel appropriately uncomfortable.
Known issues
Uncomfortable moodlets that are boosting another emotion are displayed as fading from green to the boosted emotion's colour, just like a happy moodlet boosting a positive emotion. This appears to be a hardcoded visual, and can't be fixed. :(
Thanks
This mod has only been made possible by the continued support of my patrons. Thank you!
This mod is an original script and design, but was inspired by Zerbu's Uncomfortable Boosts mod.
Thanks to Loofofbread, Sjofn, Apex Pecoris, and vidde for testing and reporting bugs.
Conflicts
This mod overrides no files, and should not conflict with any other mod.
Support and updates
If you like my mods, I have a patreon where you can support me in making more of them and keeping them up to date with patches.
To keep informed of updates to the mod, click the 'follow' button on patreon for email alerts. You can also follow roBurky on tumblr and twitter.
To talk about the mod with other players, or get live help with installing or using the mod, join our Discord server.

Download
Download
roBurky - UncomfortableOverhaul.zip
39 kB
Install instructions
Extract the contents of the zip file into your 'Documents/Electronic Arts/The Sims 4/Mods' folder.